https://www.anthropoceneinstitute.com/wp-content/uploads/2016/08/AI-logo-large-1.png
0
0
admin
https://www.anthropoceneinstitute.com/wp-content/uploads/2016/08/AI-logo-large-1.png
admin
2017-06-20 09:04:50
2017-06-20 09:04:50
ESRI: Global Risk of Deadly Heat Waves
Uncategorized
And stationary storage batteries had a booming quarter, too.
According to the Energy Information Administration's Electric Power Monthly, a bit more than 10 percent of all electricity generated in the US in March came from wind and solar power (including both distributed residential solar panels and utility-scale solar installations). That's a record number for the country, and it reflects continuing effort to install more renewable capacity across the nation.
The EIA shows that eight percent of total electricity generation that month came from wind, and the other two percent came from solar. The administration also predicts that wind and solar will contribute more than 10 percent of the total electricity produced in April, although numbers for that month aren't out yet.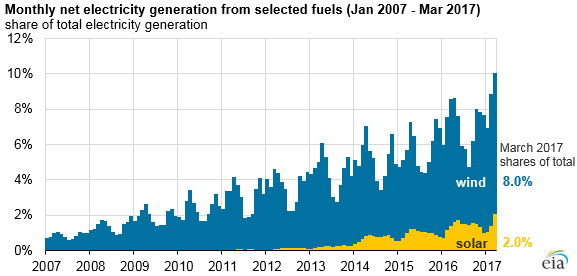 Renewables have tended to hit records in spring and fall—often called shoulder seasons—because wind is plentiful and the northern hemisphere receives a more even amount of sunlight during those seasons than it does during winter. In addition, electricity consumers tend to use less during the shoulder seasons (mild weather means they're usually not running air conditioners or space heaters, for example). That means overall energy use is low and peak-demand fossil fuel-burning plants don't need to come online. All these factors together make it easy for renewable energy to shoulder a larger and larger share of the work. Read more
/
by admin
https://www.anthropoceneinstitute.com/wp-content/uploads/2016/08/AI-logo-large-1.png
0
0
admin
https://www.anthropoceneinstitute.com/wp-content/uploads/2016/08/AI-logo-large-1.png
admin
2017-06-14 16:35:13
2018-01-04 21:00:44
Ars: In March, wind and solar generated a record 10% of US electricity
https://www.anthropoceneinstitute.com/wp-content/uploads/2016/08/AI-logo-large-1.png
0
0
admin
https://www.anthropoceneinstitute.com/wp-content/uploads/2016/08/AI-logo-large-1.png
admin
2017-06-05 23:03:23
2017-06-23 23:05:12
High-Resolution Air Pollution Mapping with Google Street View Cars: Exploiting Big Data